The following are mini-reviews of books I read in 2002.
Also see the full index of books I've read.
---

The Far Lands
by James Norman Hall (Wikipedia)
... biographical note ...

Great Expectations
by Charles Dickens (Wikipedia)
...
Project Gutenberg eBook: Great Expectations

Victorian Ghost Stories: An Oxford Anthology
edited by Michael Cox and R. A. Gilbert
Not too bad, but I mainly picked up this book because it had a story by Dinah Maria Craik.
The Betrayal of America: How the Supreme Court Undermined the Constitution and Chose Our President
by Vincent Bugliosi
Infuriating.
Doubly infuriating:

It is remarkable that arguably the most consequential and far-reaching decision the U.S. Supreme Court has handed down since its inception on February 1, 1790, one that will undoubtedly alter, for good or for bad, the course of American history, and therefore, world history, was unsigned and anonymously written.
Triply infuriating:

After the publication of the Nation article, I spoke to Erwin Chemerinsky, constitutional law professor at the University of Southern California, and asked him if he knew of any other case in United States Supreme Court history where the Court had limited its ruling to the case in front of it. "No, I don't," Chemerinsky said, "Bush v. Gore is a first. I don't believe any prior Supreme Court has ever done something like this before."
The Betrayal of America is Vincent Bugliosi's original February 5, 2001, Nation article, "None Dare Call It Treason", with numerous points annotated and "amplified". The only group that emerges from the fiasco with its reputation intact is the Florida Supreme Court, thanks to its even-handed rulings. The five U.S. Supreme Court judges and the Bush team were despicable. The Gore team consisted of nice, knowledgeable lawyers unwilling to fight; according to Bugliosi, a decent trial lawyer would have ripped the U.S. Supreme Court's behavior, questions, and judgements to shreds.
Political Fictions
by Joan Didion
I've liked Joan Didion's articles in The New York Review of Books and so I was looking forward to reading Political Fictions. I found the book disappointing, although it didn't help that I had a bad case of the flu as I was reading it. Judging by the book's title, I suppose the purpose of the book was to show the realities underlying various political fictions that Didion has reported on over the years. However, the book came across as a bunch of articles cobbled together with no clear elucidation of the premise of the book. And the inclusion of the government's obfuscation of the massacre at El Mozote with the more purely political fictions of campaigns and such seemed almost obscene.
The Crimson Fairy Book
edited by Andrew Lang, illustrated by Henry Ford
When I got sick with the flu as a child, my parents used to get me books to read (in between laying upside down, Bart-like, on the sofa watching TV!) and so I gathered a small collection of Andrew Lang books among others. Fortunately, these books make equally good reading when you have the flu as a grown-up!
I keep meaning to make up a list of what and what not to do if you find yourself in a fairy tale: (i) do share your last crumb or penny with the old man or woman you meet by the side of the road, (ii) don't open the one room in the castle you aren't supposed to open even though they always give you the key, etc.
Also see Wikipedia's Andrew Lang's Fairy Books.

God: Stories
edited by C. Michael Curtis
This book is a collection of short stories that deal with or involve various denominations of the Jewish and Christian faiths. The stories are quite good and are apparently by well-known authors - which is to say that I knew a few of the names! (Biographical notes for the authors are found in the back of the book; I would have preferred them on the first page of each author's story.)
I was especially struck by three of the stories. John Updike's Made in Heaven has an interesting twist at the end. A Father's Story by the late Andre Dubus is excellent and concludes with the following dialog with God:
And He says: I am a Father too.
...
But You never had a daughter, and if You had, You could not have borne her passion.
...
Then you love in weakness, He says.
As You love me, I say, and I go with an apple or carrot out to the barn.
Cynthia Ozick's Rosa is a sad story about old age and the Holocaust:
The Warsaw of her girlhood: a great light: she switched it on, she wanted to live inside her eyes. The curve of the legs of her mother's bureau. The strict leather smell of her father's desk. The white tile tract of the kitchen floor; the big pots breathing, a narrow tower stair next to the attic ... the house of her girlhood laden with a thousand books. Polish, German, French; her father's Latin books; the shelf of shy literary periodicals her mother's poetry now and then wandered through, in short lines like heated telegrams. Cultivation, old civilization, beauty, history! Surprising turnings of streets, shapes of venerable cottages, lovely aged eaves, unexpected and gossamer turrets, steeples, the gloss, the antiquity! Gardens.
(Also see A Reader's Guide to the book.)
Life's Little Ironies
by Thomas Hardy
I downloaded a collection of novellas by Thomas Hardy - The Son's Veto (1891), For Conscience' Sake (1891), A Tragedy of Two Ambitions (1888), On the Western Circuit (1891), To Please His Wife (1891), The Melancholy Hussar of the German Legion (1889), The Fiddler of the Reels (1893), Tradition of Eighteen Hundred and Four (1882), A Few Crusted Characters (1891) - and I am reading them on a Palm Pilot. Reading on a PDA, a new experience for me, is not too bad when the light is good. Thomas Hardy's stories are, well, depressing.
Project Gutenberg eBook: Life's Little Ironies
Little Lord Fauntleroy
by Frances Hodgson Burnett (Wikipedia)
For some reason, I didn't add these books to my book list at the time I read them, so I'm guessing (in 2011) on the date based on the timestamps (August 2002) of the files ...
Project Gutenberg eBooks:
Much Ado About a Lot: How to Mind Your Manners in Print and in Person
by Mary Newton Bruder
Known as the "Grammar Lady", the late Mary Newton Bruder maintained a website of the same name. Here is the obituary (Wayback Machine) posted several months after she passed away in 2004. She will be missed by many.
Poet Margaret Menamin (a fellow Pittsburghian and who herself passed away in 2009) composed this poem in Bruder's honor:

The Grammar Lady is Dead
In Memory of Mary Newton Bruder

I hear participles weeping
as they dangle over her grave
wet as the soggy sentences
of students who pour over textbooks.

I see the company stationary
forced to a standstill.
Who can it turn to,
from whence will it seek advise?
Will it be able to continue on?

Neat little subjects and objects
stand two abreast
like an honor guard in the cemetary,
loyal as slaves sent to follow
their master out of the world.

The affect would amuse her
but at this point in time
I can no longer illicit
her secret smile,
the baptism of her soft blue pencil.

The above poem contains 9 spelling and grammar errors, and one phrase that is worthy of death by firing squad.
Margaret Menamin Online (Wayback Machine)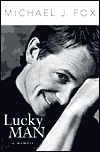 Lucky Man: A Memoir
by Michael J. Fox
As a long-time admirer of Michael J. Fox, I looked forward to reading his autobiography. (The "Johnny B. Goode" scene in Back to the Future was the first time I ever laughed so hard at a movie that I got tears in my eyes.) Fox is very smart, at times too smart for his own good, as he too frequently admits in the book. He is very articulate - this book is not ghost-written and a couple of times I had to look up words in the dictionary. Last, but not least, he has a very compelling story to tell. I was not disappointed.
His life story is interspersed with flashbacks chronicling the development of his Parkinson's Disease; this bouncing back and forth got a little confusing at times. I got the impression that a few years passed without him seriously seeking treatment; I would have expected his wife, Tracy Pollan, to have been all over his case as soon as they received the initial diagnoses. He was a smart-alec (pun intended) for the first 30 years of his life, a fact which he owns up to a little too often in the book for my taste. Still, his acting career and, in later years, the conduct of his personal life deserve immense respect and admiration.
(Also see this review.)
Passing for Normal: A Memoir of Compulsion
by Amy S. Wilensky
A poignant, but often humorous, account by a young woman of growing up with, suffering from, and living with Tourette Syndrome (TS) and Obsessive-Compulsive Disorder (OCD). By coincidence, I read this book shortly after reading Michael J. Fox's Lucky Man, the story of his struggle with Parkinson's Disease and its tics. Wilensky hits the nail on the head early on in her book in the discussion of a TS support group she attended:
I found myself thinking about Timmy, not as a freak, not as an object of pity, but as one of the few people I'd ever met who knew all too well what it was like to fight your own body for control every single waking minute of every single day.
(Also see Wilensky as "artist reporter" on NPR's "Along for the Ride". Some other writings: "When Your Child Has Obsessive-Compulsive Disorder", an interesting history of her father's firm, and, for mature readers, "The Skin I'm In.)
The Voyage Out
by Virginia Woolf (Wikipedia)
My first novel by Virginia Woolf and her first novel too, published in 1915. Having associated Woolf with George Eliot and not knowing that this was her first book, I was expecting more. The story was lengthy; the plot not so obviously revolved around Rachel; and I spent most of my time reading the book wondering why these English folks traveled such a long way to spend months in a hot, uncomfortable climate, trying to while away the endless hours between dinner and bedtime - not to mention the rest of the day too!
This brief biography also has links to on-line versions of some of Woolf's stories. Clarissa and Richard Dalloway, introduced in The Voyage Out, are the subject of Woolf's later, more famous work, Mrs. Dalloway, published in 1925. (Also see the International Virginia Woolf Society.)
Project Gutenberg eBook: The Voyage Out
War on Iraq: What Team Bush Doesn't Want You To Know
by William Rivers Pitt, with Scott Ritter
A quick read that debunks the myths and deceptions surrounding the United States' blind, apparent march to war with Iraq. The book begins with a brief history of Iraq in the 20th century, followed by an in-depth interview with former U. N. weapons inspector, Scott Ritter.

The Bush Dyslexicon: Observations on a National Disorder
(June 2002 edition) by Mark Crispin Miller
...
Motherless Brooklyn
by Jonathan Lethem
This is an excellent story featuring detective Lionel Essrog, who has Tourette Syndrome. An especially fascinating aspect of the book is that the cadence of the writing has the feel of Tourette's.
Interesting quote:

Insomnia is a variant of Tourette's - the waking brain races, sampling the world after the world has turned away, touching it everywhere, refusing to settle, to join the collective nod. The insomniac brain is a sort of conspiracy theorist as well, believing too much in its own paranoiac importance - as though if it were to blink, then doze, the world might be overrun by some encroaching calamity, which its obsessive musings are somehow fending off.
Hear an excerpt from the book here (MP3 and RealAudio formats).

Efficient C++: Performance Programming Techniques
by Dov Bulka and David Mayhew
Following in the footprints of Kernighan and Plaugher, the authors provide a very readable account of encountering and solving a variety of real-world programming problems. One minor quibble: the authors frequently speak of C++ compilers being able to automatically perform such-and-such an optimization - Real Soon Now, as Jerry Pournelle would say! Perhaps, but C++ is 20 years old and, with Microsoft veering off into C# land, I'm not holding my breath.