The following are mini-reviews of books I read in 2004.
Also see the full index of books I've read.
---
Blackadder: The Whole Damn Dynasty
by Richard Curtis, Ben Elton, and John Lloyd
The World of the Past (Volumes 1 and 2)
edited by Jacquetta Hawkes (1910-1996) (Wikipedia) (pub. 1963)

I originally purchased these two volumes in the late 1970s. They are a collection of contemporary writings about archaeological investigations. I didn't read the books completely, either then or now; instead, I picked and chose the chapters that interested me. A very good collection!

Also see the Celebrating Jacquetta Hawkes blog.
Lies And the Lying Liars Who Tell Them: A Fair and Balanced Look at the Right
by Al Franken (Wikipedia)
Dude, Where's My Country?
by Michael Moore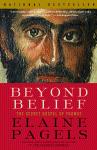 Beyond Belief: The Secret Gospel of Thomas
by Elaine Pagels (Wikipedia) (pub. 2003)

...

Also see this excerpt from her book, The Gnostic Gospels.

Lost Christianities: The Battle for Scripture and the Faiths We Never Knew
by Bart D. Ehrman (Wikipedia) (pub. 2003)
The Pleistocene Redemption
by Dan Gallagher (pub. 1997)

(I'm writing this in 2015.) I heard of this book, was interested in genomics, and was eager to get my hands on a copy, which I wasn't able to do. Finally, I discovered the author's E-mail address and he kindly sent me an electronic version of the book. The story was not bad, but, looking back, I largely agree with what A.L. Sorois had to say in this 1999 review.
My Man Jeeves
by P. G. Wodehouse (1881-1975) (Wikipedia) (pub. 1919 and 1934, respectively)

...

Project Gutenberg eBooks: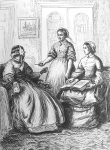 Mistress and Maid
by Dinah Mulock Craik (1826-1887) (Wikipedia) (pub. 1862)

She
by H. Rider Haggard (1856-1925) (Wikipedia) (pub. 1886)

...

Project Gutenberg eBook: She
Doctor Therne
by H. Rider Haggard (1856-1925) (Wikipedia) (pub. 1898)