The following are mini-reviews of books I read in 2019.
Also see the full index of books I've read.
---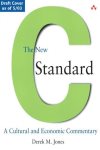 The New C Standard: An Economic and Cultural Commentary
by Derek M. Jones (Version 1.2, June 24, 2009)

Detailed commentary on the C Standard, ISO/IEC 9899:1999, known in the vernacular as "C99". The book is about 1600 pages in length, so I've been scanning the document until something catches my eye and then I settle down to read the section of the book more thoroughly.

For the coverage proper of the C Standard itself, the author picks out phrases, sentences, and longer passages from the standard and provides commentary under some or all of the following categories:
Commentary
Rationale
C90
C++
Other Languages
Common Implementations
Coding Guidelines
Example(s)
Usage
The overall commentary for each item chosen from the C Standard makes for fascinating reading. The author is very knowledgeable about C, C++, other historical and contemporary programming languages, and historical and contemporary computer architectures. I repeat: fascinating!
The introduction also makes for interesting reading; its approximately 150 pages look into the cultural, economic, and psychological aspects of computer programming, spread across the following sections (plus a couple of others):
Translation environment
Execution environment
Measuring implementations
Source code cost drivers
Background to coding guidelines
Applications
Developers
Psychology of programming
Categorization
Decision making
Expertise
Human characteristics
Source code
The book can be downloaded for free in PDF form from the author's C Language Book Material page, which also has links to related resources. Also take a look at his The Shape of Code blog.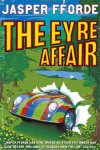 The Eyre Affair
by Jasper Fforde (Wikipedia) (pub. 2001)